Will NEET be held twice a year? Health Ministry says this
The union Health Ministry has stated that there are no plans to hold the National Eligibility cum Entrance Test (NEET) for undergraduate courses twice a year.
Minister of State for Health and Family Welfare Bharati Pravan Pawar informed the Lok Sabha on Friday that both the National Medical Commission (NMC) and National Testing Agency (NTA) have confirmed that there are no proposals to conduct NEET UG exams twice a year.
JKBOSE Takes Crucial Step Towards Results Declaration: Class 10th and 12th Paper Marking Begins!
This was in response to a query posed by BJP's Ramesh Chand Bind, who had asked if the government plans to conduct NEET twice like the JEE Main engineering entrance test, and whether a single window system will be implemented for these exams.
The Health Minister stated that NEET is currently the sole entrance exam for medical admissions in the country, and is a significant reform that provides students with the opportunity to gain admission to the top medical institutions. The Minister further explained that the NEET exam has played a crucial role in curbing malpractices in medical admissions, increasing transparency, and reducing the burden on prospective students who were earlier required to take multiple entrance exams.
The National Testing Agency (NTA) conducts the NEET (UG) exam, which covers syllabi from both state and national boards, according to Minister Pawar.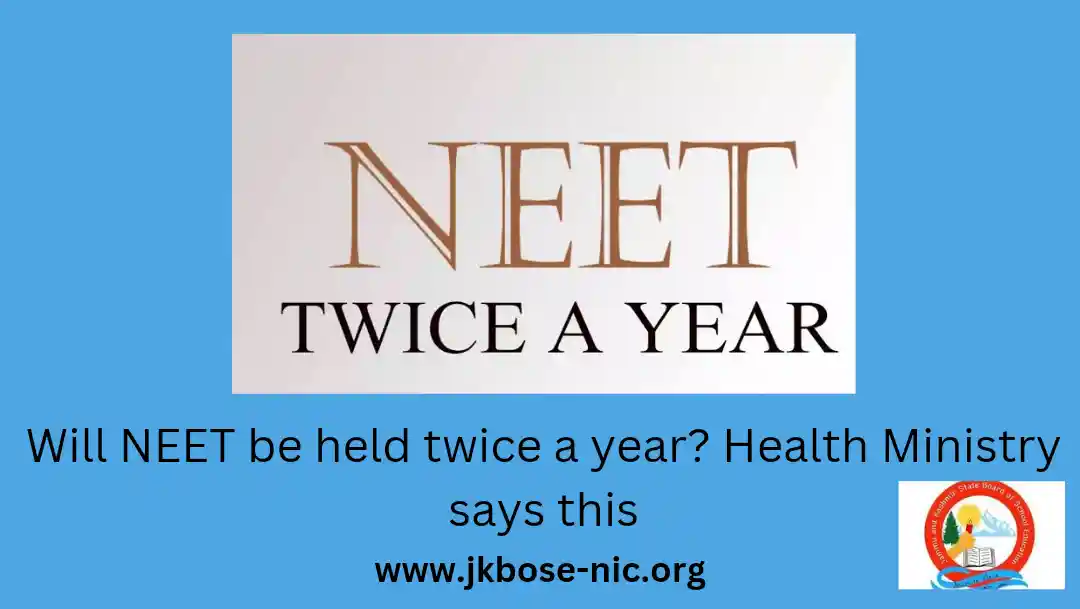 To sum up, it has been confirmed by the Indian Health Ministry that the National Eligibility cum Entrance Test (NEET) for undergraduate courses will continue to be conducted only once a year, and there are no plans to hold it twice a year. This announcement brings clarity for students and aspiring medical professionals who can now focus their preparation for the NEET exam, which is a significant milestone in their career paths. With this information, they can plan their studies accordingly and strive to achieve their goals with greater confidence.
Get Results & Other Updates on WhatsApp