JKBOSE Changes Syllabi For Classes 9th to 12th
Jammu and Kashmir Board of School Education Rationalizes Syllabi for Classes 9th to 12th
The Jammu and Kashmir Board of School Education (JKBOSE) has recently taken an important measure to bring its syllabi in line with the guidelines of the National Education Policy (NEP) 2020. With the aim of reducing the amount of content in textbooks and encouraging experiential learning with a creative approach, JKBOSE has made the decision to streamline the syllabi and textbooks for students in Classes 9th to 12th.
Taking inspiration from the rationalization initiatives carried out by the National Council of Educational Research and Training (NCERT) in New Delhi, JKBOSE is motivated to improve the standard of education by aligning the curriculum. Through the decision to rationalize the syllabi, students will have increased chances to participate in experiential learning and cultivate a comprehensive understanding of the subjects. This step is aimed at enhancing the overall quality of education in JKBOSE.
Get Results & Other Updates on WhatsApp
This is to notify all stakeholders, including students, teachers, and parents, that the rationalized syllabi and textbooks for Classes 9th, 10th, 11th, and 12th will be introduced in all JKBOSE affiliated schools starting from the upcoming academic session, 2023-24. By adopting the rationalization framework established by NCERT, JKBOSE aims to establish a consistent curriculum that promotes uniformity and equips students with the necessary knowledge and skills for their holistic growth and development.
JKBOSE 10th & 12th Result Official Declaration Confirmed
In the future, the JKBOSE website will grant access to the rationalized syllabi, which will include the removed content. This will aid teachers and students in comprehending the revised curriculum and adequately preparing for the forthcoming academic year.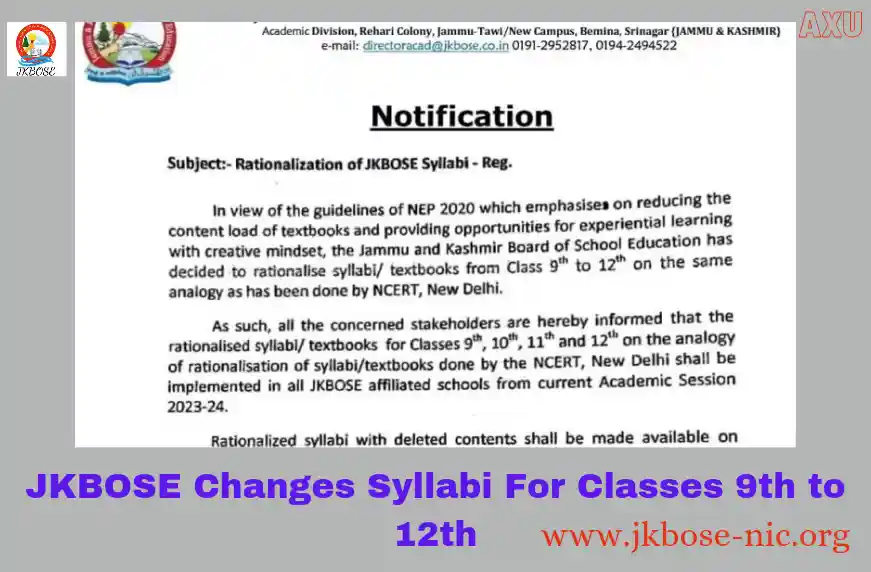 The rationalization of syllabi by JKBOSE demonstrates the board's dedication to adjusting to the changing educational landscape and establishing a conducive environment for comprehensive learning. By integrating the principles outlined in the NEP 2020, JKBOSE endeavors to cultivate a more dynamic and engaging educational experience for the students of Jammu and Kashmir.
For any additional inquiries or information, individuals can contact the Jammu and Kashmir Board of School Education via email at directoracad@jkbose.co.in or by calling 0191-2952817 and 0194-2494522.
This announcement marks a significant advancement in the ongoing efforts to improve the quality of education in Jammu and Kashmir, ensuring that students receive a comprehensive and enriching academic experience. The rationalization of syllabi will play a vital role in shaping a generation of students who are equipped with the knowledge and skills necessary to thrive in a rapidly evolving world.